The Spanish are very passionate about their food and wine and Spanish cuisine. Spanish food can be described as quite light with a lot of vegetables and a huge variety of meat and fish. The Spanish cuisine does not use many spices; it relies only on the use of high quality ingredients to give a good taste.
Breakfast, Lunch and Dinner times

Spaniards have a different eating timetable than many people are used to.

Breakfast

In Spain, a breakfast (el desayuno) is the smallest meal of the day. It is usually café con leche, a large cup containing a small amount of very strong espresso coffee with a lot of very hot, frothy milk and a sweet roll or magdalenas, lemon-flavored cupcakes or sugary churros.

Children may drink a cup of thick and creamy Spanish hot chocolate or cold chocolate milk and a roll, although cereals have become popular with children in the last 20 years.

A simple roll with jam or a sweet roll is usually served with café con leche. However, it is not unusual to see toast accompanied by butter or a mild, soft cheese and/or cooked ham. At home, many families will eat magdalenas or "Maria" crackers. They are a round cracker that is sweet – and look a bit like a Ritz cracker. Churros are a very traditional breakfast food - lightly fried dough similar to a doughnut, sprinkled with sugar or honey.
"El aperitivo" is a light snack eaten around 12:00. However, this could include a couple of glasses of beer and a large filled baguette or a "pincho de tortilla".
Lunch (la comida) starts at 13:30-14:30 (though often not until 15:00) and was once typically followed by a short siesta, usually at summer when temperatures can be quite hot in the afternoon. This is the main meal of the day with two courses (el primer plato and el segundo plato followed by dessert. La comida and siesta are usually over by 17:00 at the latest
Most Spaniards still enjoy a break and large meal, but life in Spain is changing. In larger cities like Madrid and Barcelona, many people spend over an hour commuting to and from their work, making it impossible to go home for a meal and siesta.
Because of this, Spanish government employees in Madrid now work a standard eight-hour day with a one-hour lunch break. Many large supermarket and retail chains in large cities don't close for lunch anymore. Most small shops still close to enjoy their meal and a break before re-opening in the late afternoon.
Below is a sample meal that you might find on a menu at a restaurant, or if you were invited to someone's home for lunch:
Vegetable, Bean or Seafood Soup (many times rice, potato or pasta-based)
Fresh Fish or Seafood, Roast Chicken or Lamb, Fried Potatoes, Rabbit Stew, etc.
Green Salad or Vegetables
Dessert - Flan, light pastry, fresh fruit or ice cream
Coffee and Liqueur or Brandy
Bread is ALWAYS on the Spanish table. It is plentiful and fresh and used to mop up sauces.
Since Spanish lunches are always large, and courses come one at a time, pace yourself! Like Italians, Spaniards believe in taking their time and enjoying their meals, so la comida can last an hour and a half or longer.
Since Spaniards love eggs and dairy foods, you will find that many desserts are made from fresh milk or cream. Fresh fruit is typical to see on the dessert menu and may be served with a soft cheese. Don't forget an espresso shot – You'll probably need it after the big lunch!
There is also an afternoon snack that some take between la comida and la cena called la merienda. La Merienda can be anything from a piece of French-style bread with a piece of chocolate on top to bread with chorizo sausage, ham or salami. It is eaten around 4:30 or 5:00 pm, and since dinner isn't served for at least another 3-4 hours, nobody worries that this snack will ruin the appetite for dinner!
Between the lunch and dinner times most restaurants and cafes are closed and it takes extra effort to find a place to eat if you missed lunch time. Despite this, you can always look for a bar and ask for a bocadillo, a baguette sandwich. There are bocadillos fríos, cold sandwiches, which can be filled with ham, cheese or any kind of embutido, and bocadillos calientes, hot sandwiches, filled with pork loin, tortilla, bacon, sausage and similar options with cheese. This can be a really cheap and tasty option if you find a good place.
La Cena – Dinner
Smaller than Lunch
Light fare, such as an omelet or fish with a green salad
Eaten between 9:00 pm and Midnight
A dinner might include fresh fish or seafood, a portion of roast chicken or lamb, with fried potatoes or rice. Portions are usually smaller, and plates are simpler. A simple and quick dish, commonly eaten at dinner is arroz cubano, which is a mound of white rice, topped with tomato sauce and a fried egg. Green salad and/or a vegetable dish are standard at lunch and dinner. A lighter dessert of fresh fruit or flan (Spanish vanilla custard) may also be eaten.
Often times, rather than sitting down to dinner at a restaurant, a group of friends may decide to meet and tapear, (make the rounds at their favorite tapas bars) before seeing a movie, going to a club or show.
Normally, restaurants in big cities don't close until midnight during the week and 2-3AM during the weekend.
Tapas - Little Spanish Meals
Tapas are eaten well after breakfast, but before lunch, the large mid-afternoon meal! They are small plates, canapés or finger food may be warm or cold dishes, and vary greatly from region to region - season to season.
Tapas-Time generally includes bar-hopping to wine-taste and chat
A different Tapa is ordered at each stop
This time is just as much about socializing with friends and neighbors as it is about the quality of the tapas
Friends may have a circuit, making regular stops at favorite bars
The Spanish love tapas so much, they made a verb out of it. The phrase Vamos a tapear! means "Let's go eat tapas!" There are literally hundreds, perhaps thousands of tapas. A few of the most popular tapas are:
Tortilla Española - Spanish Omelet, also called tortilla de patata, or potato omelet
Patatas Bravas - Potatoes with Spicy Brava Sauce
Gambas al Ajillo - Shrimp in Garlic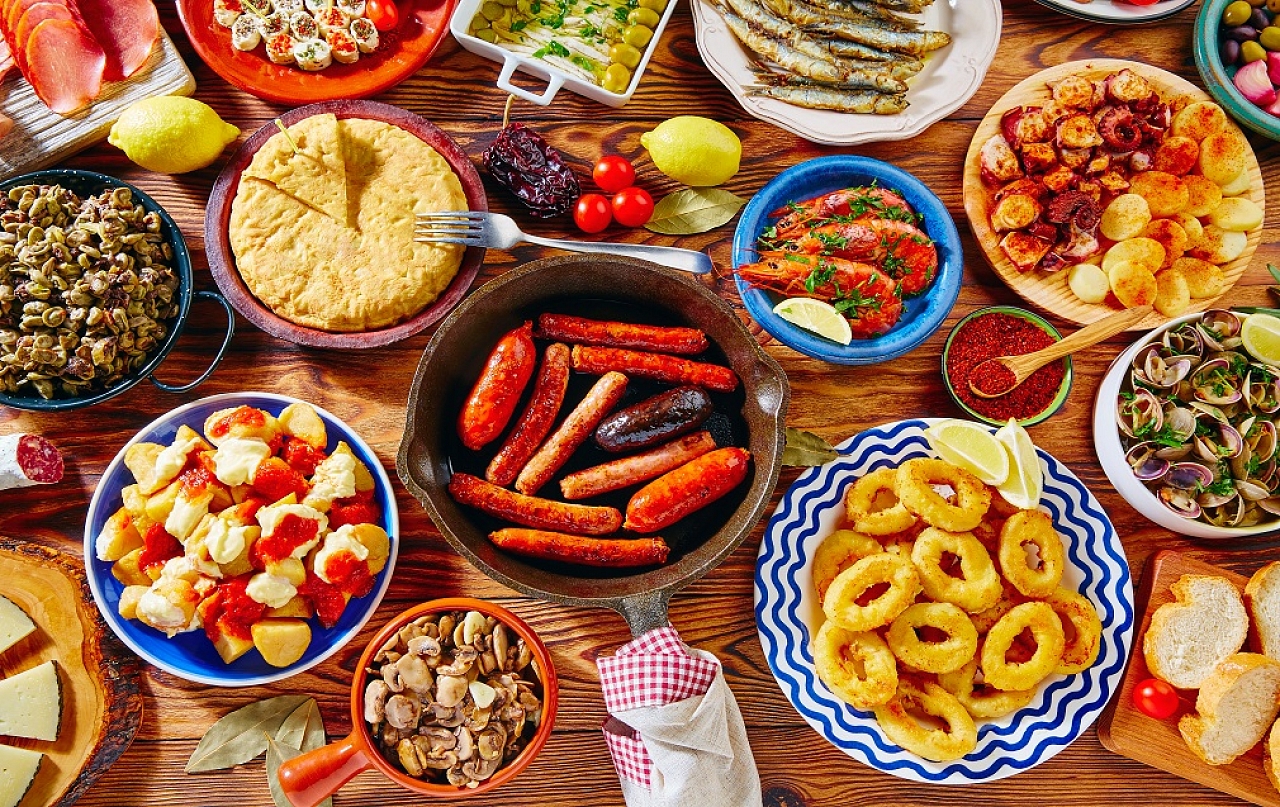 After Dinner
Spaniards are night owls. The typical Spaniard does not eat dinner until at least 9 o'clock in the evening and probably does not get to bed until close to midnight.
On the weekends, on holidays and during the summer months, it wouldn't be unusual for a Spanish family to turn in around 3 or 4 o'clock in the morning. So, after the late-night dinner, Spaniards continue their socializing in their neighbourhood cafés and taverns or go out to a nightclub or pub.
Tipping and VAT
Service charges are included in the bill. You are free to tip if you are very pleased: you would typically leave the small change after paying with a note. Maybe at the most touristy places they expect you to give some extra, but Spanish people do not commonly do it.
VAT is-not-included is a common trick for mid-range and splurge restaurants: always check in menu whether VAT (10%, IVA in Spanish) is included in menu prices.
Menú del día
Many restaurants offer a complete lunch meal for a fixed price – "menú del día" – and this often works out as a bargain. Water or wine is commonly included in the price.